On March 1, 1964, the legendary Erik Jonsson, then Dallas Mayor, dedicated the new Lake Highlands High School (LHHS) in Dallas. He challenged the students to maintain an alert and open mind and to follow the progression of modern education.
Now, 50 years later, Lake Highlands High School, the School of Champions and a Blue Ribbon School, continues to honor the words of the revered Jonsson with a school that would make the late civic leader proud today. To celebrate its golden anniversary, LHHS threw the biggest party in its history, inviting the public to join in the celebration.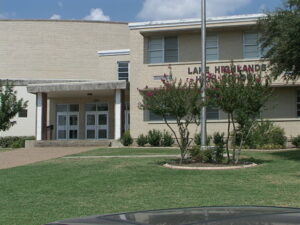 On Sunday, March 23, 1:30 to 5 p.m., thousands of former faculty/staff, past students, neighborhood families and students, and Richardson ISD officials gathered to mark the milestone. "Lake Highlands is a gem of a community unique to Dallas, because many who graduate from Lake Highlands High School come back to live and raise their families here," said District 10 Dallas City Councilman Jerry Allen, a 1968 graduate of Lake Highlands. "It's not unusual to find three generations living within blocks of each other. They come back for our schools, especially LHHS, which is the community's cornerstone and the gathering place for Friday night football and July 4th parades."
Performances by the award-winning Wildcat Band, choirs, Wranglers Country/Western stunt dancers, cheerleaders and Highlandettes drill team dazzled and entertained spectators all afternoon. They performed on the steps of the auditorium in front of visitors sampling the wares from the many food trucks lining the parking lot.